According to evolution, man has evolved from ape-like creatures to the present day intelligent hominid. His language changed from grunts to complex communication. His way of provision went from hunters and gatherers to farmers. He started as cavemen and evolved into city dwellers. Does archeology support this view?
Do We See Proof for Ancient Intelligence?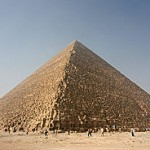 To consider the evidences of man's superior intelligence in the past, check out the seven wonders of the ancient world: Great Pyramid of Giza (the only one of the 7 still standing), Hanging Gardens of Babylon, Statue of Zeus at Olympia, Temple of Artemis at Ephesus, Mausoleum of Maussollos at Halicarnassus, Colossus of Rhodes, and the Lighthouse of Alexandria. The Great Pyramid "contains more quarried stone than what is contained in all of the cathedrals and churches in England." Each weighed 100 tons and was transported from 60 miles away, 2,300,000 in all! If it was really built in 20 years, that would mean about 800 tons of stone was laid each day!
Or consider the seven wonders of the Medieval world: Stonehenge, Colosseum, Catacombs of Kom el Shoqafa, Great Wall of China, Porcelain Tower of Nanjing, Hagia Sophia, and Leaning Tower of Pisa.
The Incredible Intelligence of the Incas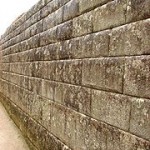 A recently compiled list of wonders includes a famous city in South America.
Long before modern power equipment, the city of Machu Picchu was built 8000 feet above sea level in the Andes Mountains of Peru. The city was built of stones not native to the mountain but quarried down the Urubamba River and carried, somehow, up the river and then up the mountain. "The Incas were among the best stone masons the world has seen, and many junctions in the central city are so perfect that it is said not even a blade of grass fits between the stones. . . Inca walls show numerous design details that also help protect them from collapsing in an earthquake." (Wiki)
Now consider these: The Mayans lived 2000 B.C. yet were able to calculate the length of a year to within 99.98% accuracy. A hundred years before them, Egyptians were able to electroplate and to make battery cells. Ancient skulls in South America indicate they knew how to perform brain surgery. The Aztecs of Mexico monitored the orbit of Venus and used a calendar based on its cycles. An 8-carat gold chain 10 inches long was found in a lump of coal. This is a problem for evolutionists who date coal formation long before the evolution of man. Yet the chain shows evidence not only of art but also of metallurgy. However, this is in perfect harmony with the Bible that states metallurgy was practiced seven generations after Adam (Gen. 4:22)
What Does Archaeology Indicate?
These facts are only a small portion of the vast evidence of the skill and intelligence of ancient people. Rather, archeology indicates that man has not evolved to intelligence, but rather has fallen from it because of sin.
Sources: