Experience of a Lifetime
Seeing the Petrified Forest of northern Arizona is quite an experience. It is not like any other forest for the trees are not standing. At your feet are millions of pieces of broken petrified wood, a veritable carpet covering the ground. But also entire trees may be seen as well, most of them broken into pieces as if cut with a saw.
We know these trees were buried where silica-rich water could soak into the wood replacing each cell with the quartz or other minerals. With many of the samples, even the bark and tree rings are preserved.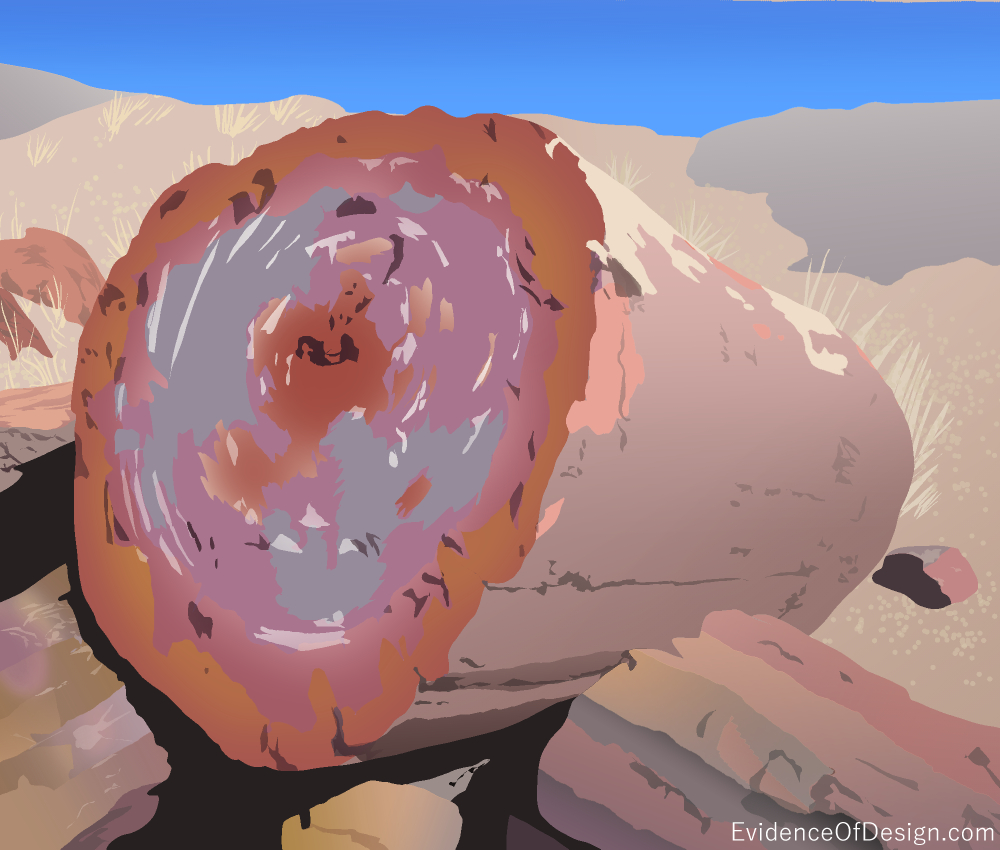 How Fast Can the Process Happen?
Petrified wood has been a puzzle to old-earth geologists. Their explanations of the petrification have included processes that took millions of years. Now, however, scientists have been able to replicate the process in minutes! On occasion, farmers have even found the bottom of their fence posts petrified. Obviously, this did not take millions of years. Geologists now concede that process probably took less than 100 years (Wiki). That is a considerable concession! Yet, just think, what happens when you soak wood in water? How long will it take before it rots or at least the bark falls off?
Not a Problem for Young-earth Creationists
Creationists have no difficulty explaining petrification (also called petrifaction). The swirling mineral-rich water following Noah's flood would quickly bury fallen trees and the pressure of the water and burial would hasten the preserving process. When standing at the Petrified Forest in Arizona, I scanned the area and remarked that it seemed like the bottom of a lake. Indeed, this lake could have formed as the flood waters receded. Evidence of rapid deposition (layer forming) includes straight lines between the layers, without signs of erosion as would be true if long periods of time were required. Underneath the lake the trees were petrified. Suddenly the soft embankment gave way emptying the lake and forming the Grand Canyon and the remaining Petrified Forest.
If we are right in saying Noah's flood waters were the instrument of petrifaction, then the trees grew and flourished during the years prior to it, during the days of Adam and his descendants. Perhaps the many areas of petrified wood through the world are God's museum, a sobering reminder of what happens when a nation or people turn from God.