The anglerfish would surely not win any beauty contest! However, it is a good candidate for first place in the amazing design category. Here's why.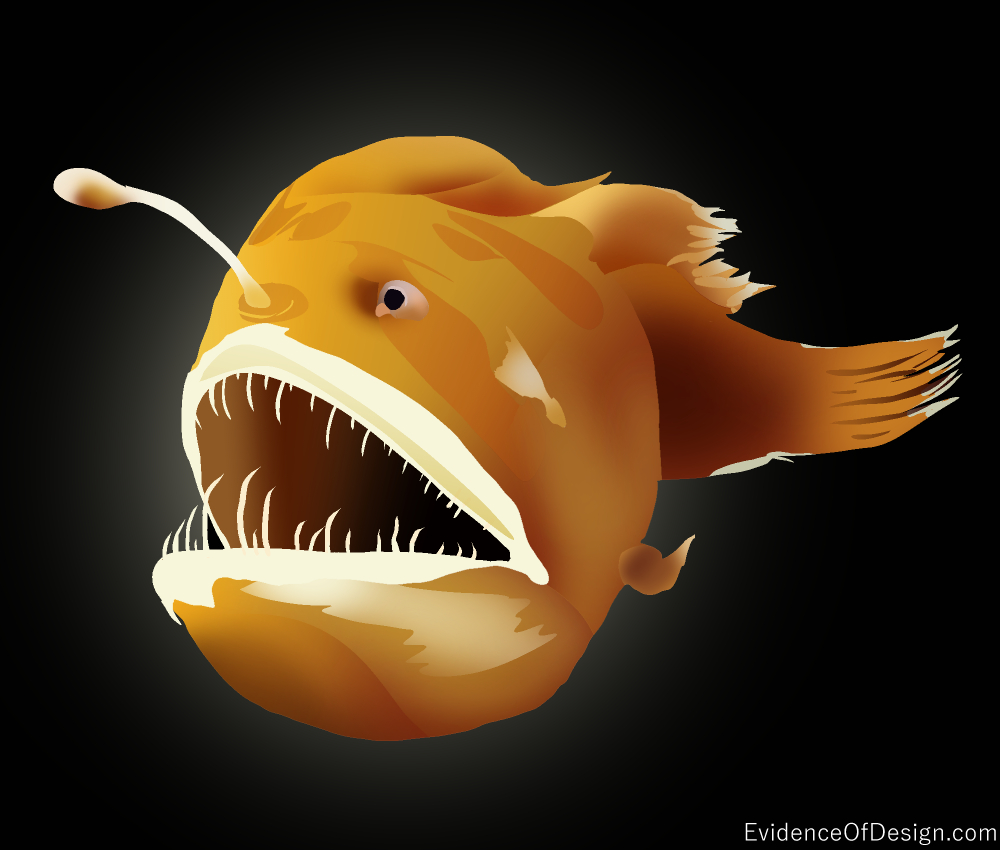 The Anglerfish: Not Made for Looks
The female anglerfish has a build in fishing rod attached to her head between her eyes. At the end dangles (in front of her mouth) what appears to be food and fish come by to get lunch. Instead, they are lunch. The anglerfish have huge heads and enormous crescent-shaped mouths filled with sharp, translucent teeth. It's pretty easy to see how this fish got its name. However, this luring of prey is harder than it seems.
There are more than 200 species of anglerfish. Some anglerfish reach a yard long though most are about a foot. They are found in the depths of the Atlantic and Antarctic oceans, as much as a mile below the surface. There is no light that deep in the ocean and ugly doesn't matter there. But herein is the problem: how does the prey see her lure?
The Anglerfish's Devious Scheme
The tip of the angler's fishing pole contains bioluminescent bacteria, meaning they glow in the dark much like the flashlight fish we discussed in an earlier article. A compound called Luciferin (same one found in fireflies) is oxidized by an enzyme called Luciferase. The reaction produces cold light. Thus, in the dark of the ocean, a naïve fish sees the glowing object and comes to investigate. Suddenly, the giant mouth closes on the hapless victim and lunch is served.
Reproduction in a Mind-blowing Way!
The darkness produces another problem. When it is time for reproduction, how will the female find a male to fertilize her eggs? The anglerfish eggs are buoyant and form a jellylike mass on the surface. From the eggs, both male and female anglerfish hatch and grow up near the surface. When they are mature, the male stops being able to digest food. He then smells out a female and "will bite into her skin, releasing an enzyme that digests the skin of his mouth and her body, fusing the pair down to the blood-vessel level." The male deteriorates into only the organs containing sperm. The female lacks a swim bladder so sinks to the bottom to live and eventually to 'lay' her eggs, fertilized by the sperm she carries with her from the male.
Evolution Doesn't Cut It
Try explaining the above facts about the anglerfish by a process of small, mindless changes over time. With no bladder or light, she would sink and become extinct. Without floating eggs and a male attached to her in the dark, she would not reproduce. All these features of the anglerfish must be in place at once for her to survive. This can only be explained through the intelligent and wise design of a Creator. The Bible says His name is the Lord Jesus Christ. (John 1:3)