What did it take for atheist Alfred Russel Wallace to switch to a belief in a Creator? Answer: his examination of the complexity of the brain convinced him.
What did it take Scott Minnich, Molecular Biologist at the University of Idaho, to give up atheistic evolution in favor of Michael Behe's idea of Intelligent Design? Answer- his twenty years of study of the bacterial flagellum motor.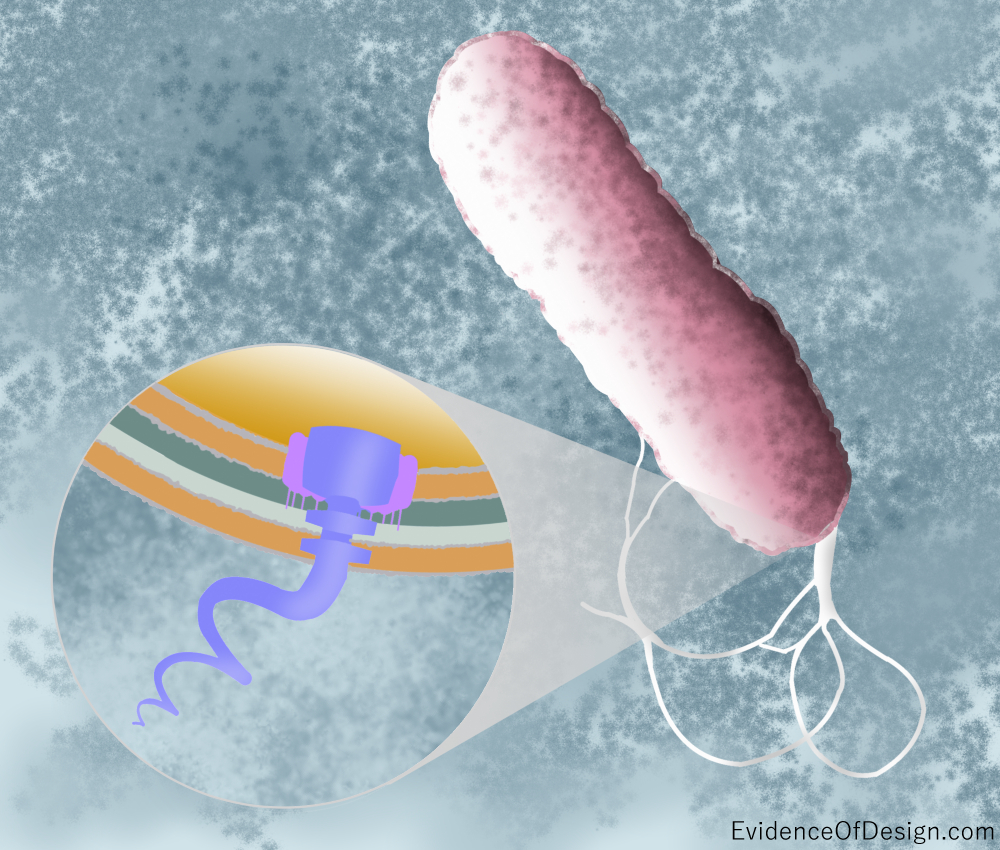 How Can Something So Tiny Be So Complex?
This is tiny, for to study it, the bacteria must be magnified 50,000 times. Yet it has forty protein parts that must function together to make it work so marvelously.
The flagellum motor whirls at a rate of 100,000 rpm and can stop and reverse direction in a quarter turn! Scott Minnich's studies led him to state that this is the most efficient machine in the universe. It is water-cooled, has a driveshaft, propeller, and other components similar to those of a man-made motor.
Why Is This Impossible for Evolution?
The reason this convinced him of design is based on Darwin's own statements. Natural selection, by definition, demands that the selected trait is useful. If it is not, then it would disappear. Yet this motor has forty parts and all must be present for it to function as it does. If one part evolved but was not useful, it would be lost before all the parts came together in such an efficient, orderly way.
In Origin of Species, Darwin stated, "If it could be demonstrated that any complex organ existed which could not possibly have been formed by numerous, successive slight modifications, my theory would absolutely break down." Scott Minnich accepted this statement as true, and, therefore, has rejected it in favor of Intelligent Design.
The Evidence From an Honest View-point
For those critical of mixing religion and science, note that Scott says nothing about God or faith or the Bible in his conclusion. He simply honestly looked at the evidence and said there was no way the propeller on a bacterial flagellum could have come together by a series of mindless accidents.
The Bible is more specific and tells us who that Designer is. The answer is found in John:
"In the beginning was the Word, and the Word was with God, and the Word was God. The same was in the beginning with God. All things were made by him; and without him was not any thing made that was made." (verses 1:1-3) "And the Word was made flesh, and dwelt among us, (and we beheld his glory, the glory as of the only begotten of the Father,) full of grace and truth." (verse 14)
Our response to this news should be John 1:12:
"But as many as received him, to them gave he power to become the sons of God, even to them that believe on his name,"
*all verses are in the King James Version